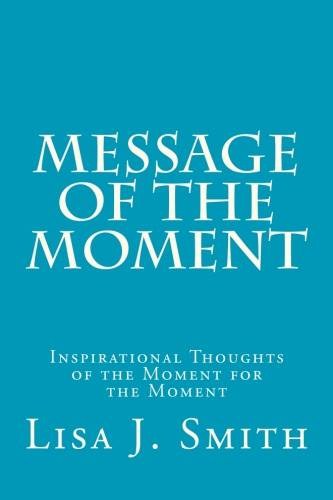 "Message of the Moment" was inspired by the people that Lisa J. comes in contact with in her everyday life, her own ups and downs, and the lessons she has learned by working with her beloved clients and listeners over the years.
In a playful, yet poetic and unique style, Lisa has put together some of her most popular teachings over the years into one book. The messages are for you, your family, friends, children, and even can apply to your co workers.
Each message has been written so anyone reading these messages of the moment can be inspired to live an authentic life, filled with inner peace and self love, all with a fresh perspective.
"Message of the Moment" is a daily inspirational book to uplift, empower, and remind you of the greatest tool you have been given, yourself. Read straight through or turn to a random page to get the message that you need for that moment.
With Lisa's simple, yet truthful, and down to earth approach, her daily messages have been reaching people around the globe and uplifting spirits daily.
Whatever way you choose to use this book, you can be sure that you will feel the positive, life changing, and loving messages from Lisa to you.
Now you can have them wherever you go all in this one book. As she always says, "wherever in the world you are, I am too."
6" x 9"
(15.24 x 22.86 cm)
Black & White on Cream paper
300 pages
Peeps Publishing
ISBN-13:
978-0985144838
ISBN-10:
0985144831
BISAC: Body, Mind & Spirit / Inspiration & Personal Growth
Testimonials for "Message of the Moment"
A little book of wisdom, September 10, 2013
This review is from:

Message of the Moment: Inspirational Thoughts of the Moment for the Moment (Paperback)
I've been listening to Lisa J. Smith on the radio and on podcasts for about 4 years. Over the years she taught me to trust myself, my decisions, my life. She has taught me to let go of situations that do not serve me, and she has taught me to love me no matter what. Lisa J. Smith never fails to surprise me with her effortless wisdom & whole-hearted love. This book is just the icing on the cake! I love to just open it up on to a random page and read what the moment is telling me. I remember that I had come across a song on the radio that I had really connected with and later when I got home, I opened up this book and it read "Did you know the messages in music and lyrics are telling you stories? Are you paying attention? What are they telling you?" - it was a really cool synchronicity! I really want to share this book with my friends but I don't want to give it up haha, so I may just have to buy them a copy. The best part is, that I bought a signed copy and I now have my own personalized message from Lisa J.! I really recommend this book to anyone!
Simply Profound, September 10, 2013
By

S.D.

-

This review is from:

Message of the Moment: Inspirational Thoughts of the Moment for the Moment (Paperback)
This is the second of Lisa J. Smith's book and it did not disappoint. Each message resonates truths that we all need to be reminded of so that we can not only understand ourselves, but each other and the universe. This book can be used as you would oracle cards. The messages are simple yet deeply profound and reassuring. This book resonates with the reader because it is the perfect message for that moment. I highly recommend this book for everyone.

Shari D.
Format:
Paperback
|
Amazon Verified Purchase
Hello Lisa,
I heard your interview tonight. I absolutely loved your approach to living with peace within yourself. I also loved your energy so much. I so had that peace and love for myself at one time, you brought me to tears I want it back so bad. I also want to get your book,can you send the the info for your signed copy. Just wanted to send you my thanks. I am so glad I was on to hear you tonight. If you only helped one person tonight it was me!!! You opened my eyes again,and I truly thank you from the bottom of my heart. I hope to meet or talk to you one day. God bless you and yours. Love, light and many, many blessings to you!!!!!!!
Julie
info@peepspublishing.com (248) 593-5227